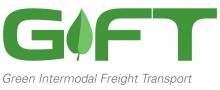 The Executive Agency "Maritime Administration" is a partner in project GIFT "Green Intermodal Freight Transport" funded by the Operational programme for transnational cooperation "SOUTH EAST EUROPE 2007 – 2013".
The aim of the project is to analyze and evaluated the transport sector in the divisional GIFT transport network and to develop policies and strategies for infrastructure development, harmonization of the relevant standards and regulations in order to promote innovative green freight corridors.
A partner workshop will be held on 26 - 27 November 2012 for discussing issues related to project management and disbursement of funds. A communication strategy, which is developed under the Work Package 2, will also be presented. A Steering Committee will discuss current issues.
The second day of the workshop will be focused on the results achieved under the Work package 3 as regards performing comparative analyses and evaluation of green transport corridors in the GIFT network. Guidance will also be given for future activities under this package.
Representatives of the partners from Serbia, Greece, Slovenia, Romania, Hungary, Croatia and Italy will attend the meeting.