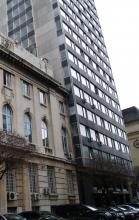 The status of Executive Agency "Maritime administration" is regulated by the Merchant Shipping Code - article 360, (1). The activity, structure, work organization and staff is specified in an Ordinance adopted by the Council of Ministers.
Executive Agency "Maritime Administration" (EAMA) is a legal entity on budget support to the Ministry of transport, information technology and communications, a second level user of budget credits, based in Sofia with regional offices in Bourgas, Varna, Lom and Rousse.
EAMA status is regulated by the Merchant Shipping Code - Art. 360, para. 1. The activity, structure, organization and operation of the Agency shall be determined by regulations adopted by the Council of Ministers. 
Website: http://www.marad.bg
E-mail: [email protected]
BULSTAT: 121797867

Service bank:UBB AD
BIC: UBBSBGSF
SOFIA
IBAN in BGN: BG33-UBBS-8888-3119-8335-01
EUR IBAN: BG82-UBBS-8888-3419-8335-40
VARNA BRANCH
IBAN in BGN: BG55-UBBS-8888-3119-8559-00
EUR IBAN: BG77-UBBS-8888-3419-8559-40
BOURGAS
IBAN in BGN: BG46-UBBS-8888-3119-8548-01
EUR IBAN: BG95-UBBS-8888-3419-8548-40
BRANCH RUSE
IBAN in BGN: BG35-UBBS-8888-3119-8614-01
EUR IBAN: BG84-UBBS-8888-3419-8614-40
BRANCH VRATZA
IBAN in BGN: BG82-UBBS-8888-3119-8623-01
EUR IBAN: BG34-UBBS-8888-3419-8623-40
Opening hours: 9.00 to 17.30 with 30 minutes lunch break between 12:00 to 14:00, and of the administrative service is from 9.00 to 17.30 with ensured continuous duty operation. In cases where there are users of services in the offices at the end of the working hours, the work of the unit continues until the end of the performing of the services but not more that 2 hours.
The Agency:
shall organize and coordinate activities related to the safety of shipping in the sea spaces and inland waterways of the Republic of Bulgaria;
shall ensure the actual liaison between the government and ships flying the Bulgarian flag;
shall exercise control on:

the observation of shipping safety requirements by Bulgarian and foreign ships;
the observation of the working and living conditions of seafarers;
provision of services for traffic management and information of shipping maritime spaces, inland waterways, canals, ports in Bulgaria and other duly   defined regions;
the compliance with the quality requirements for marine fuels;

the organization and coordination of search and rescue of people, vessels and aircraft in distress;
the supervision and organization of the protection of the marine environment and the Danube River from pollution from ships;
organization and conduction of examinations for competencies to seafarers;
issues certificates of competency to seafarers;
Maintenance of registers of ships, seafarers, ports and port operators in the Republic of Bulgaria.
It also performs the following functions: